The Birchwood Bedroom Set is exquisite and embodies one-of-a-kind elegance with its dark bronzed tufted headboard and footboard. Available in Parisian Bronze finish, the artisan detailing and unique coloring gives the bedroom set an entrancing appeal. The lustrous crown design features handcrafted ornate details that enhance the majestic and high-end bed.
Set includes:
1 x Bed
2 x Nightstand
1 x Mirror
1 x Dresser
Collection Name: Birchwood
Finish: Parisian Bronze
Dimensions:
Queen (71.75in W x 88.75in D x 67.1in H)
Cal King (83.6in W x 92.75in D x 68.1in H)
Eastern King (87.5in W x 88.75in D x 68.1in H)
Nightstand (25.6in W x 19.3in D x 25.6in H)
Dresser (59.1in W x 20.2in D x 30.7in H)
Mirror (40.25in W x 2in D x 40.4in H)
Tufted headboard and footboard
Unique, lustrous coloring
Artisan, hand-carved details
Velvet-lined top drawer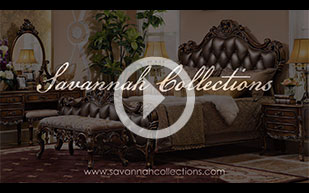 Request free swatches below.
Birchwood 5-pc Bedroom Set shown in Parisian Bronze finish