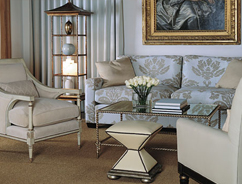 Baker Furniture includes a fascinating selection of styles, modern and traditional. Many people will instantly recognize some Baker Furniture designs, famous classics, and modern styles. Savannah Collections is proud to include this excellent selection of products in our collections.
The Baker Furniture line is strong selection of design concepts, unequivocal in style and craftsmanship. The Baker Furniture collections are based on a truly elegant mix of comfort and good taste.
Baker Furniture is one of the world's leading brands, admired by designers for its many unique qualities of design. These collections include both original design and authentic renditions of classic and modern designs in a fabulous suite of forms and styles.
Baker Furniture at Savannah Collections
Savannah Collections has a complete suite of Baker Furniture. Our Baker Furniture collections include a vast selection of these extraordinary, exciting designs.
Our Baker Furniture collections include several basic options:
Contemporary furniture
Traditional furniture
Upholstery
Lighting and accessories
Baker Furniture product types include:
Accents
Accessories
Beds
Benches
Cabinets
Chairs
Chaise lounges
Étagères
Lights
Love seats
Nightstands
Ottomans
Sectionals
Sleepers
Stools
Sideboards
Sofas
Tables
Appreciating Baker Furniture
When you browse the Baker Furniture collections, you'll see a true smorgasbord of elegant choices. You'll recognize some all-time classic designs, and see many types of design which are unfamiliar. If you're a true furniture expert, expect a very pleasant experience as you explore this truly fabulous selection of fine furniture. You'll also find a large number of choices of furniture that are ideal for any home.
Buying Baker Furniture at Savannah Collections
Purchasing Baker Furniture with us online is very straightforward. We accept all major credit cards through our secure online payment system. We also offer easy financing options, or you may use PayPal's Bill Me Later payment feature.
Our 100% guarantee
When you purchase with us, you're automatically covered by our 100% satisfaction guarantee. If you're not happy with your purchase, whatever the reason, simply contact us within 30 days to arrange return (please see our Returns Policy page for full details).
Ordering and shipping
Your order will be sent within three working days, excluding public holidays. Please note: Savannah Collections only ships to the mainland United States. Deliveries are only made during the working week
Contact us
If you'd like to know more about products, have a question about ordering, shipping, or would like to make an appointment to visit our showroom, contact us by phone or use our online contact form.