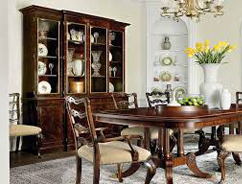 Henredon furniture is well known as a global leader in the luxury furniture market. This famous brand offers a truly vast range of all types of furniture and has an excellent reputation for quality. The Henredon products and collections comprise a truly comprehensive range of furnishings, ranging in style from authentic classical design to the latest modern designs.
Henredon furniture is extremely popular. The very broad range of different styles and types of furniture offer consumers a truly unique range of choices. Henredon's very wide range of individual pieces and accessories is also very much in demand. This brand is so popular that even the Henredon product catalogs often sell out!
Henredon at Savannah Collections
Savannah Collections is proud to have a very wide range of both Henredon collections and individual pieces.
Our range includes:
Dining room suites
Bedroom suites
Living room suites
Accent pieces
Individual pieces
Henredon's motto, appropriately enough, is "A look for every room, every lifestyle". As you explore our collection of Henredon suites and individual pieces, you'll soon see how appropriate this motto is.
Whether you're looking for perfectly crafted classical furniture, ultra-modern furniture, a fabulous new coffee table, or a complete lounge suite, Henredon offers multiple choices for you. For many interior design experts, Henredon is the benchmark brand for purchasing. As you browse our range of Henredon products, you'll soon see why the Henredon name is considered an industry icon.
Customization options
With Savannah Collections, you can also customise your Henredon furniture to match your décor needs. You can have your new furniture made to order, exactly the way you want. (Please see our custom furniture link at the bottom of the page for details.)
Purchasing Henredon products at Savannah Collections
To purchase Henredon products, you can use your credit card, our financing options, or even use the PayPal Build Me Later service, using our secure online payment system.
Savannah Collections guarantee 100% satisfaction
Our blanket 100% satisfaction guarantee means that if you're not fully satisfied with your product, you can return your purchase within 30 days. (Please see our Returns Policy page for full information.)
Ordering and shipping
Orders are usually processed within three working days of receipt. Please note that Savannah Collections only ships within the mainland United States. Deliveries are conducted on weekdays only.
Contact us
If you'd like more information about a particular product, would like assistance with finding products, or have questions regarding purchasing and shipping, please contact us online or by phone. Our experts will be happy to provide all the assistance you require.