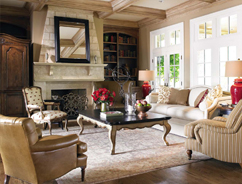 Century Furniture is a unique brand in upscale furniture design. This company's motto is "Infinite Possibilities, Unlimited Attention," and it's easy to see that their truly large selection of styles and designs is a good example of that ethos. Century Furniture is a fabulous addition to Savannah Collections, offering beautiful furniture with distinctive charm and panache.
The Century Furniture range is a mix of modern and classical, including a fascinating array of comfort, color, and design choices. The Century Furniture collections incorporate a stunning array of styles and individual pieces.
Century Furniture is a true leader in design and quality. Each piece of their diverse range of products is created according to strict design parameters. Precision workmanship is obvious in the fine detailing of each product.
Century Furniture at Savannah Collections
Savannah Collections has a comprehensive selection of Century Furniture. Our Century Furniture collections include a full range of styles and design choices.
Century Furniture offers something for everyone:
Outdoor furniture
Bedroom
Dining
Living room
Custom furniture
Wood collections
Upholstery collections
Office furniture
Designer chairs
Sectional pieces
Sleepers
Lighting
The Century Furniture journey
Expect to be stunned by the Century Furniture collections. This is a true designer journey through a wide range of extraordinary styles. Some pieces of furniture may seem almost too good to be true, with carved wood features which come from a story book. Others are breathtaking in their elegance. If you're a real aficionado of fine furniture, expect to be thrilled.
Buying Century Furniture at Savannah Collections
You can purchase Century Furniture with us online using all major credit cards. You can also purchase through our easy financing options, or PayPal's very useful Bill Me Later payment feature.
100% satisfaction guarantee
At Savannah Collections, you're fully covered by our 100% satisfaction guarantee. You can return your purchase for any reason within 30 days. All you need to do is contact us within that time to arrange the return of your purchase and receive your refund (see our Returns Policy page for details).
Ordering and shipping
Orders are shipped within three working days, not including public holidays.
Note: Savannah Collections ships to the mainland United States only. Deliveries are made only on weekdays.
Contact us
If you need more information about products, ordering, shipping, or want to make an appointment to visit our showroom, contact us by phone or online. We'll be happy to assist with your inquiries.