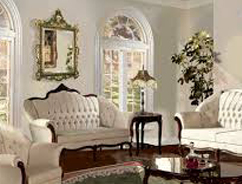 Victorian furniture is one of the benchmarks in luxury furniture design. During this period, American, English, and European craftsmen created a golden age of design, still considered one of the great design periods of all time.
The modern version of Victorian furniture design faithfully reproduces this exceptional quality of workmanship. Modern designers have recreated the wonderful richness and vibrancy of this exquisite furniture to the finest detail.
Authentically reproduced using only the finest materials and fabrics, Victorian furniture remains a very special class of furniture design, as popular today as it was in the Victorian era. Come and discover an era of elegance and true luxury with us.
Victorian furniture at Savannah Collections
Savannah Collections has selected a truly representative variety of ranges of this fabulous Victorian furniture. We have selections from America and the world's leading designers, including the legendary Maitland-Smith, Taracea, Henredon, and Theodore Alexander, a specialist manufacturer of authentic period furniture.
Our Victorian furniture range includes:
Accent pieces- Crafted individual pieces
Bedroom suites- Luxury beds, night stands and other accessory pieces
Dining room- Classic style, beautifully crafted suites
Living room- A stunning range of almost unimaginably elegant, impeccably crafted suites and additional pieces
Customization options
Our clients can also take advantage of Savannah Collections customization choices, including fabric choices and matching color options for interior design. Explore your options, select your preferences, and create your own Victorian furniture suite.
Purchasing
You can purchase our Victorian furniture online using our secure payment service. We accept all major credit cards. We also offer financing options and PayPal's Bill Me Later payment option.
100% satisfaction guarantee
We offer our clients am uncompromising guarantee of complete satisfaction. If for any reason you're not 100% satisfied with your purchase, you can simply contact us to return your product within 30 days. (Please see our Returns Policy for details.)
Ordering and shipping
We ship to the mainland United States only. Orders are usually despatched within 3 working days of receipt of your order. Deliveries are made on weekdays only.
Product inquiries
If you're unfamiliar with Victorian furniture and require more information about specific products or our customization choices, please contact us for any information you need. Our experts will be happy to assist and advise.
Contact us
If you have questions or need some help regarding purchasing, showroom visit appointments, or matters related to orders, contact us online or by phone.