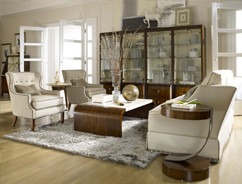 Drexel Heritage furniture is a premium brand name in the upper echelons of furniture design. This brand incorporates a broad range of designs, including classical and modern designs of impeccable taste and quality. Drexel Heritage furniture has a rightful place in Savannah Collections under our criteria of selecting only the very best designer furniture on the market.
The Drexel Heritage furniture collection is truly versatile. This varied range of designs includes indoor and outdoor furniture, modern furniture, and flawlessly rendered authentic traditional designs.
Drexel Heritage furniture sets an uncompromisingly high standard of product quality. Every piece is meticulously created, detailed, and finished according to the best traditions of furniture craftsmanship, using a combination of modern technology and age-old furniture-making techniques.
Drexel Heritage furniture at Savannah Collections
Savannah Collections has a dazzling assortment of Drexel Heritage furniture. Our Drexel Heritage furniture collections include a distinct range of styles and design options:
The Drexel Heritage collection includes furnishings for all areas of your home:
Dining room
Living room
Home office
Storage for all areas
Custom seating options
Accent pieces
Drexel Heritage also offers a very broad range of designer collections:
24 Willow Crossing
Acclamations
At Home in Belle Maison
Casa Vita
Celladora
Dalliance
Delshire
dh Wood
Et Cetera
European Market
Giasana
Gourmet Dining
Leather Pairings Seating
Madison Cherry II
Modern Options Seating
Options Ottomans
Options Seating
Renderings
Synchronicity
Viage
Vintage Originals
The Drexel Heritage furniture experience
The Drexel Heritage collections are a joy to explore. You'll find a very broad range of designs for all tastes, and some fascinating selections of accent pieces and individual furnishings.
Buying Drexel Heritage furniture at Savannah Collections
Purchasing furniture online is very easy. We accept all major credit cards. We also offer easy finance, or you may use PayPal's Bill Me Later option.
100% satisfaction guarantee
When you purchase at Savannah Collections, you're automatically covered by our 100% satisfaction guarantee. You simply notify us that you wish to return your purchase within 30 days. Contact us within that period and arrange return and refund (please see our Returns Policy page for returns details).
Ordering and shipping
Your order will be despatched within three working days, excluding public holidays. Please note that Savannah Collections ships to the mainland United States only. Deliveries will be made on weekdays.
Contact us
We're happy to assist with any inquiries. If you'd like more information regarding products, ordering, shipping, or if you'd like to arrange an appointment to visit our showroom, contact us by phone or on our website.