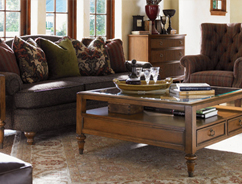 Lexington Furniture is rightly known as a benchmark name in upscale furniture design. This is an extraordinary collection of the latest and best in traditional furniture design, ranging from classical Americana to modern designs to authentic European furniture at its finest. Lexington Furniture is a perfect match with our Savannah Collections criteria of fine furniture from the very best designers.
The Lexington Furniture range is unique, even in the extremely demanding environment of top-of-the-line furniture design. This very wide range of designs offers a particularly fine selection of styles, designs, and choices for discriminating buyers.
Lexington Furniture sets exceptionally high standards in terms of materials and product quality. This is real furniture craftsmanship at its most demanding, right down to the smallest details of leather upholstery and ornamentation.
Lexington Furniture at Savannah Collections
Savannah Collections has a dazzling suite of Lexington Furniture of all kinds, including:
Lexington Furniture offers a variety of collections:
The Lexington range


The Lexington Furniture home brand furniture collections

The Tommy Bahama Indoor and Outdoor furniture collection


Fabulous suites in a range of collections and styles

Henry Link Trading Co


A standalone collection of fine traditional furniture in the Lexington portfolio

Aquarius


A collection of the latest modern furniture from Lexington

Sligh


Collections of top of the line authentic traditional American designs
Discovering Lexington Furniture
If you're looking for a Master Class in furniture design, this is top of the line upscale furniture design at its most demanding. You'll soon discover many truly beautiful and fascinating designs for your home or place of business.
Buying Lexington Furniture at Savannah Collections
You can use your credit card through our secure online payment system to purchase your selections. Alternatively, you may wish to use our financing options, or PayPal's always-useful Bill Me Later service.
Savannah Collections guarantee
All purchases at Savannah Collections come with our 100% satisfaction guarantee. You can return your purchase within 30 days for any reason. Just contact us within that time to arrange return and refund (please see our Returns Policy page for full details).
Ordering and shipping
Orders are typically dispatched within three working days, public holidays excepted. Please be advised that we ship to the mainland United States only. Deliveries are made on weekdays.
Contact us
If you'd like more information about products, ordering, shipping, or wish to make an appointment to visit our showroom, contact us online or by phone. We're happy to assist and provide all the information you need.