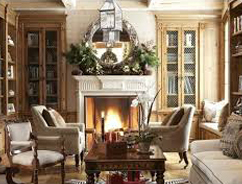 Theodore Alexander is a unique, specialist furniture manufacturer and designer. This company specialises in authentic classical and modern furniture, manufactured to the highest professional standards of craftsmanship.
The Theodore Alexander range comprises a truly astonishing four centuries of different types of furniture design, including French, English, European, modern classical and Oriental styles. Theodore Alexander products include dazzling authentic Americana pieces, Regency furniture, modern art deco, Georgian, and many other examples of extraordinary excellence in furniture design.
This furniture is authentic in every detail. Each piece is a faithful reproduction of the original designs, made using modern manufacturing techniques in combination with handcrafted carving, detailing, and ornamentation. You'll see many pieces which looked quite familiar, and a lot of designs and styles which you may never have seen before.
Theodore Alexander at Savannah Collections
Savannah Collections is proud a very wide range of these fabulous Theodore Alexander pieces. We have a truly comprehensive selection of all types of Theodore Alexander furniture, in many different styles.
Theodore Alexander furniture includes a wide range of individual pieces:
Desks
Tables
Seating
Cabinetry
Chests of drawers
Accessories
Accent pieces
Mirrors
Lighting
Tabletop accessories
The Theodore Alexander range also includes collections and themes, including these among many others:
Armoury
The English Cabinet Maker
Brooksby
Campaign
Castle Bromwich
Classic yet Casual
Discovering the Theodore Alexander range
Whether you're an expert in furniture design, a furniture aficionado, or simply browsing, you will enjoy discovering the Theodore Alexander range of furniture. This is a truly remarkable range of products, and you'll soon see why the Theodore Alexander name is so highly respected among professional furniture designers.
Purchasing Theodore Alexander at Savannah Collections
To purchase, you may use our online secure payment system for all major credit cards, our financing options, or the PayPal Build Me Later service.
The Savannah Collections guarantee
With our 100% satisfaction guarantee, you may return any product within 30 days of purchase. All you need to do is contact us to arrange your refund. (Please see our Returns Policy for detailed information.)
Ordering and shipping
Orders are usually dispatched within three working days of receipt. Savannah Collection ships to the mainland United States only. Please note that deliveries are carried out on weekdays only.
Contact us
If you need information about a particular product, ordering, shipping, or would like to arrange an appointment for a showroom visit, please contact us online or by phone. Our friendly experts will be happy to provide you with all information and assistance you need.