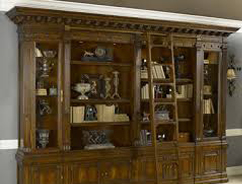 Maitland-Smith has a thoroughly deserved reputation in the furniture industry as one of the finest and most versatile classical furniture companies in the world today. This brand is highly respected by professional designers, retailers and interior fashion experts for its impeccable quality and precision workmanship.
Maitland-Smith furniture is famous for its stunning quality and exceptional standards of design and detailing. If you're not familiar with this brand, be prepared for a very enjoyable journey through their collection. Maitland-Smith furniture is made using high quality materials, and is designed and manufactured to the most demanding professional standards of craftsmanship.
Each piece is crafted using a combination of modern manufacturing techniques in conjunction with quite breathtaking hand carving and detailing. This is truly top of the line, master craftsmanship, combined with an authentic modern type of classical furniture-making.
Maitland-Smith at Savannah Collections
Savannah Collections is proud to have a truly stunning collection of Maitland-Smith luxury furniture. Our collection includes a comprehensive selection of Maitland-Smith's finest products and a full spectrum of complete furniture collections as well as individual pieces.
Our Maitland-Smith collection includes:
Bedroom collections
Dining room collections
Living room collections
Entertainment furniture
Home office furniture
Accent pieces
Exploring the Maitland-Smith collection
You'll find that Maitland-Smith has a truly huge variety of product choices and related accent pieces which demand your attention. It's best to search by category first, than by individual product to find exactly what you're looking for, as the selection can be intimidating at first. If you're looking for something in particular, you can contact us for assistance and for more specific product information.
Purchasing Maitland-Smith products at Savannah Collections
You can purchase your Maitland-Smith furniture by credit card, using our secure online payment system. You can also purchase with PayPal's Bill Me Later service, or ask about our in-house financing options.
Ordering and shipping
Products are usually shipped within three business days following the receipt of your order. Please note that we ship only to the continental United States, and that deliveries are made on weekdays only.
Savannah Collections 100% satisfaction guarantee
Under our 30 Day Audition, you may return any purchase during the first 30 days that you have it. If you're not 100% satisfied with your purchase, all you need to do is contact us to arrange a refund (please see our Returns Policy for details).
Contact us
If you would like assistance with product selection, information about ordering, or arranging a showroom appointment visit, you can contact us online or by phone. Our experts will be happy to provide you with all the information and assistance you require.