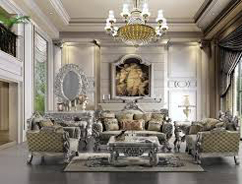 Luxury furniture is a fabulous asset for any home. The style and quality of this class of furniture creates a wonderful home environment. The new, classically designed luxury furniture now coming on the market is truly in a league of its own, unparalleled in quality and price.
Designer brands
Savannah Collections has America's leading ranges of designer-made luxury furniture, including:
Maitland Smith- Stunning craftsmanship with a traditional style, this is a renowned manufacturer in designer circles. The huge range of Maitland-Smith furniture and accent pieces is a testament to the versatility of this global brand.
Henredon- One of the leading crafters of precision workmanship, Henredon furniture is true top of the line designer furniture. Henredon offers a rich line of full furniture collections and individually crafted pieces for even the most demanding buyer.
Taracea- America's leading designers are famous for their dazzling quality and expertise in creating exceptionally beautiful furniture. Taracea furniture includes a fabulous selection of suites, classical and modern pieces.
Theodore Alexander- Creators of a vast range of high quality traditional French, European, English and modern furniture, this brand includes three centuries of styles.
Explore Savannah Collections
We stock only the very best luxury furniture available on the market today. For lovers of fine furniture, we have a magnificent range of selections of designer brands at exceptional prices.
Explore our website and you'll find complete collections for every room in your home, including the:
Bedroom
Living room
Dining room
Home office
Custom furniture
We also provide full customization options for our clients. If you'd like to create your own designer furniture collection, you can learn more about your options for customization here. We'll be happy to assist and help you create your dream home.
Our guarantee to you
All of Savannah Collections furniture comes with our unequivocal 30 day money back guarantee. You can return your purchase within our 30 Day Audition period. If you're not 100% satisfied, for whatever reason, all you need to do is contact us. (See our Returns Policy for full details.)
Purchasing Savannah Collections furniture
To purchase our furniture, you may:
Use your credit card online through our secure payment system
Opt for our Flexible Financing Options
Use PayPal's Bill Me Later service
Ordering and shipping
We ship only to states within the mainland United States. Your order will typically be shipped within three days of receipt, holidays excluded. Please note that deliveries are made on weekdays only.
Contact us
If you need more information regarding purchasing or about specific products, please contact us. We'll be happy to assist and advise you on your purchase.