Carneros Dining Table in Antique Walnut finish. Table features intricate veneer inlay design with gold accent, meticulously hand-crafted from solid walnut wood. Chair features high-grade European fabric and meticulously hand-crafted from solid walnut wood with gold accent. Design features crisscrossed back.
Note: Dining Chair fabric has been changed as shown in the photos.
Set includes:
1 x Dining Table
4 x Side Chair
2 x Dining Arm Chair
Collection Name: Carneros
Finish: Antique Walnut
Dimensions:
Dining Table with 2 leaves (120in L x 48in W x 30in H)
Dining Table without leaves (80in L x 48in W x 30in H)
Side Chair (24.5in W x 27.1in D x 45.25in H)
Dining Arm Chair (26.5in W x 28in D x 45.25in H)
Expandable with 2 x 20" leaves
Self-storage leaf system
Solid walnut wood, hand-carved construction
Veneer inlay design
Gold accent
High-grade European fabric
Criss-crossed back design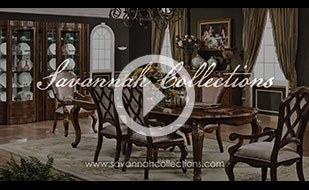 Request free swatches below.
Carneros 7-pcs Dining Set
This product has 3 questions
Joanne Johnson wrote:

Nov 30, 2017

With the leaves in the table, how many people can you fit?
With the two leaves installed, the Carneros Dining Table can seat 10 people.

Michelle Nemeth wrote:

Oct 14, 2017

Can 2 additional side chairs be ordered?
Hello Michelle - Yes, two additional side chairs may be ordered. Simply add the two additional side chairs to your cart. Please call our office at 800-818-9802 if you need further assistance with your order.

Nick W. wrote:

Jun 14, 2015

Will the dining set be used every day or only when you entertain?
The dining set can be used every day for lunch, dinner, party, or family reunion.