Essex Bed in distressed Antique Chestnut finish with high-grade Italian tufted leather on head board. Bed features exquisite detailed hand carvings on all corners and canopy for a luxurious and comfortable bedroom.
Canopy optional.
Collection Name: Essex
Finish: Antique Chestnut
Dimensions:
Queen (69.9in W x 98.9in D x 94.9in H)
Cal King (85.9in W x 101.4in D x 94.9in H)
Eastern King (85.9in W x 98.9in D x 94.9in H)
Solid wood, hand-carved construction
Distressed finish for a classic design
Hand-waxed finish for a luxurious sheen
High-grade Italian tufted leather (head board)
Gold accent
Detail carvings on post and canopy
Essex Bedroom Collection video...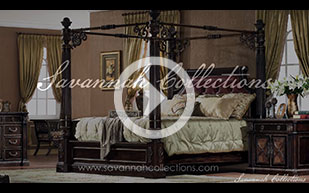 Request free swatches below.
Essex Bed shown in Antique Chestnut finish
This product has 3 questions
Selena N. wrote:

Sep 22, 2015

Can I choose what type of color the canopy comes in?
Yes. You may custom order in any fabric or color options that we have available. Please contact us for additional information.


Karolina G. wrote:

Aug 19, 2015

Does this ship outside the United States?
At the moment, we do not ship outside the US. Thank you for your understanding.

Whitney H. wrote:

Mar 19, 2015

What can I do to keep the wood looking new?
Do not place wood furniture near heating units or vents. Dry heat will cause the wood to dry and shrink, leaving cracks. Use a humidifier in the drier months to bring the moisture up to the 40 to 45 percent level