Collection Name: Greenwich
Finish: Mahogany
Dimensions: 37in W x 20in D x 32in H
Velvet lining (top drawer)
Solid wood, hand-carved construction
Solid brass hardware
Dust-proof drawer construction
English dovetail joints
Greenwich Bedroom Collection video...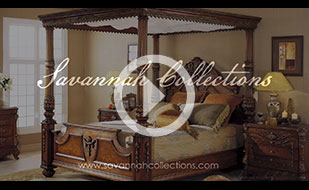 Greenwich Nightstand in Mahogany finish with gold accent. The Greenwich bedroom collection features exquisite hand-carved details constructed from solid hardwood with velvet-lined drawer for a luxurious bedroom.
Lasting craftsmanship include English dovetail joints and dust-proof drawer construction.

Request free swatches below.
Greenwich Nightstand shown in Mahogany finish
This product has 1 questions
Liam Z. wrote:

May 14, 2015

What should I clean wood furniture with first when it has some sticky spots on it ?
Sticky spots may need to be treated with soap and water. Here is how: dip the cloth in mild soap or detergent dissolved in water, wring the cloth nearly dry, and wipe the area. Rinse and immediately dry with a clean, soft cloth.