Birchwood Living Room Set available in Parisian Bronze finish. Stately and unforgettable, the Birchwood collection features comfortable down-blend cushions, tufted backboard cushions, accent pillows, and hand-carved ornate details that compliment the lush elegance of the collection.
Set includes:
1 x Armchair
1 x Loveseat
1 x 3-Seater Sofa
1 x Coffee Table
1 x End Table
Collection Name: Birchwood
Finish: Parisian Bronze
Dimensions:
Arm Chair (46.9in W x 39.9in D x 48.25in H)
Loveseat (72.1in W x 40.25in D x 52.2in H)
3-Seater Sofa (91.75in W x 40.25in D x 52.2in H)
Coffee Table (57.1in W x 39.4in D x 19.7in H)
End Table (30in W x 30in D x 24.8in H)
High-quality leather
Comfortable down-blend cushions
Tufted backboard cushion
Accent pillows as shown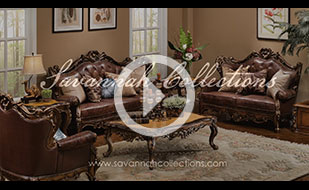 Request free swatches below.
Birchwood 5-pc Living Room shown in Parisian Bronze finish
This product has 2 questions
shivani gupta wrote:

Feb 26, 2017

Coffee table in this collection is 57.1. is this straight end to end or diagnol?
The dimension is 57.1" in width, end to end, not diagonal.

Kevin D. wrote:

Jun 18, 2015

Do you have 4- Seater sofa for this living room set?
Unfortunately we do not have 4-Seater Sofa for this collections. We can suggest you 4-Seater Sofa in Augustine collections which is available in Parisian Bronze finish.