Casabella Living Room Set available in Antique Cherry finish. Luxurious and ornate, the stylized details lend an aristocratic air to the living room. The tufted back sofa cushions are accented with a golden fringe and upholstered with high-grade European fabric. This collection also features an Ashcott Coffee Table and an Ashcott End Table with a glass top.
Set includes:
1 x Arm Chair
1 x Loveseat
1 x 3-Seater Sofa
1 x Ashcott Coffee Table w/ Glass Top
1 x Ashcott End Table w/ Glass Top
Collection Name: Casabella
Finish: Antique Cherry
Dimensions:
Arm Chair (42in W x 40in D x 41in H)
Loveseat (65in W x 40in D x 41in H)
3-Seater Sofa (85in W x 40in D x 41in H)
Ashcott Coffee Table (59in W x 42in D x 19in H)
Ashcott End Table (31.5in W x 31.5in D x 25.6in H)
Striking golden fringe
Tufted back cushions
High-grade European fabric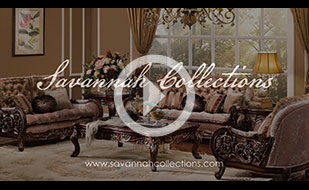 Request free swatches below.
Casabella 5-pc Living Room Set shown in Antique Cherry finish
This product has 1 questions
Robert K. wrote:

Mar 22, 2015

What are your payment requirements? Can I make a down payment for this beautiful living room set?
Full payment is required prior to the delivery of any merchandise. If merchandise is being scheduled for delivery at the time of order entry, full payment is required.
By choosing PayPal's Bill Me Later payment option, you can seize the opportunity to own the furniture of your dreams by taking advantage of flexible payment options with NO interest if paid in six months.
Please contact us for additional information.