Collection Name: Salisbury
Finish: Antique Silver, Antique White or Antique Cognac
Dimensions:
End Table (28.75in W x 28.75in D x 27.5in H)
Coffee Table (61in W x 54in D x 20.2in H)
Solid wood, hand-carved construction
18-k gold leaf accent
Two-tone finish (Antique Silver)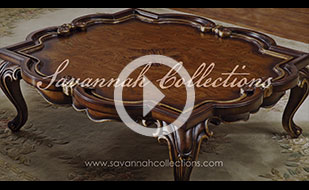 Salisbury End and Coffee Table in your choice of finishes: Antique Silver, Antique White or Antique Cognac (sold separately). The Salisbury collection features dramatic hand-carved details with 18-k gold leaf accent. Other details include two-tone finish (Antique Silver) with black-tone highlight around table edge. Table top features luxurious hand-polished sheen highlighting natural wood grain.

Request free swatches below.
Salisbury Coffee / End Table shown in antique Cognac finish
This product has 2 questions
Taylor Z. wrote:

May 18, 2015

How can I check on the status of my order?
You may check your order status online. Registered users can view a complete history of placed orders or obtain an order number by logging into "My Account" and clicking on "Completed Orders".
We make every effort to display the most current and accurate product inventory information. In the event that a product availability date changes, we will notify you via email. Please contact customer service for additional information.

Fabienne W. wrote:

Mar 21, 2015

I would like to see the picture of end table, do you have it on the website? Tks.
Hi Fabienne, we actually do not have the picture on our website, we will update it as soon as possible. However, you can call us or write us an email to [email protected] for additional information.