Collection Name: Salisbury
Finish: Egyptian Pearl
Dimensions: 29.5in W x 18.9in D x 30.7in H
Top with Antique Cognac finish
Classic, sophisticated design
Velvet-lined top drawer
Floral-shaped handles
Salisbury Bedroom Collection video...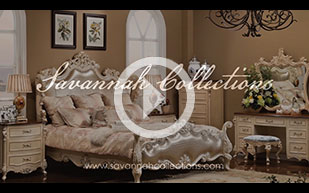 Salisbury Nightstand available in Egyptian Pearl finish and has an Antique Cognac top finish. The elegant, sophisticated design is complimented by contrasting finishes, floral-shaped handles, and a velvet-lined top drawer. Stately and classic, the top drawer is lined with velvet for comfort.

Request free swatches below.
Salisbury Nightstand shown in Egyptian Pearl finish
This product has 1 questions