Collection Name: Sonoma
Finish: Antique Bisque or Mahogany
Dimensions: 35in W x 22in D x 32in H
Solid wood, hand-carved construction
Velvet-lined top drawer
Optional Italian marble top
Solid brass hardware
Sonoma Bedroom Collection video...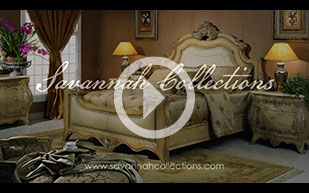 Sonoma Nightstand in Antique Bisque or Mahogany finish. Nightstand features Bombay design with exquisite detailed hand-carved leaf design that continues around nightstand for a luxurious and comfortable bedroom. Choice of wood or marble top (shown).

Request free swatches below.
Sonoma Nightstand shown in Antique Bisque finish
This product has 1 questions
Piper X. wrote:

Aug 14, 2015

How do I clean the wood if something is spilled on it?
You should avoid cleaning wood with water. However, sticky spots may need to be treated with soap and water. Here is how: dip the cloth in mild soap or detergent dissolved in water, wring the cloth nearly dry, and wipe the area. Rinse and immediately dry with a clean, soft cloth.