St. Ives Bedroom Collection available in Egyptian Pearl finish. The nightstand and dresser tops come in a beautiful contrasting Antique Cognac finish. The tufted headboard and footboard are upholstered in high-grade leather and showcased by exquisite Bombay-style hand carvings. The top drawers of the dresser and nightstand are velvet-lined for an extra touch of elegance.
Set Includes:
1 x Bed
2 x Nightstand
1 x Dresser
1 x Mirror
Collection Name: St. Ives
Finish: Egyptian Pearl
Dimensions:
Queen (71.9in W x 87.25in D x 68.25in H)
Cal King (83.6in W x 91.25in D x 68.25in H)
Eastern King (87.6in W x 87.25in D x 68.25in H)
Nightstand (26.25in W x 19.4in D x 25.8in H)
Dresser (47.6in W x 18.1in D x 31.5in H)
Contrasting dresser and nightstand finishes
Leather-tufted headboard and footboard cushions
Bombay-style hand-carvings
Velvet-lined top drawers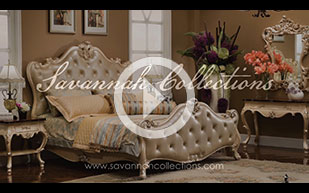 Request free swatches below.
St. Ives 5-pc Bedroom Set shown in Egyptian Pearl finish
This product has 1 questions
Sadie U. wrote:

Jul 16, 2015

If the furniture is defective when it arrives or is damaged during delivery, what is your stores policy for repairing or replacing it?
Our goal is to make buying online easy, safe and efficient. If a product arrives damaged, or we made an error, and it cannot be remedied with either a full replacement or replacement parts, we will pay to return the item to us. If your item is problematic due to a manufacturer's defect, we can either replace the defective part, or if necessary, the entire unit. We stand behind every product we sell. If you are having an issue, please contact us and we will make every effort to resolve it.