Wellesley 6-pc Living Room Set in Parisian Bronze finish. This collection features luxurious Italian silk with down-blend cushion and pillows for a luxurious and comfortable living room. Intricate details include finial with included tassles. Brass nailhead trim throughout to create a timeless luxury design.
Coffee & end table features imported Italian granite top with intricate finial under table. Accent pillows feature exquisite fringes and unique shapes to add character to your living room. Own this exquisite collection for your luxury home today.
Set includes:
2 x Accent Chairs
1 x Loveseat
1 x 3-Seater Sofa
1 x Coffee Table
1 x End Table
Collection Name: Wellesley
Finish: Parisian Bronze
Dimensions:
Accent Chair (28.4in W x 32.5in D x 49.25in H)
Loveseat (72.9in W x 37.75in D x 40.75in H)
3-Seater Sofa (91.6in W x 37.6in D x 41.4in H)
Coffee Table (57.1in W x 36.6in D x 20.75in H)
End Table (27.6in W x 27.6in D x 29.75in H)
Solid hardwood, hand-carved construction
High-grade imported Italian silk
Hand-carved finial from solid hardwood with included tassles
Down-blend cushion and accent pillows
Include accent pillows as shown in photos
Brass nailhead trim
Imported Italian granite top
Intricate finial under table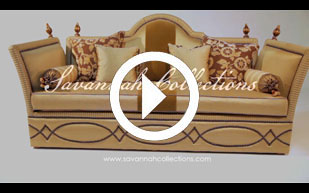 Request free swatches below.
Wellesley 6-pc Living Room Set shown in Parisian Bronze finish
This product has 1 questions
Steven T. wrote:

Jun 5, 2015

Can I take out the 2 accent chairs and replace by another loveseat? Will there be an extra cost ?
Yes, you can replace items of your choice. There is additional 6-8 weeks lead-time depending on the availability of our stock and upcharge for custom order. Please contact us for additional information.