Collection Name: Greenwich
Finish: Mahogany
Dimensions:
Queen (73in W x 94in D x 92in H)
Cal King (available upon request)
Eastern King (85in W x 96in D x 92in H)
Canopy, high post or low post configuration
Solid walnut wood, hand-carved construction
Exquisite details with gold accent throughout
High or low post require optional set of 4 x finials (sold separately)
Greenwich Bedroom Collection video...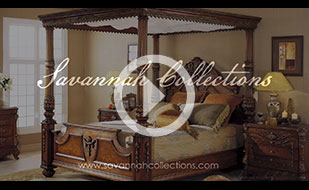 Greenwich Bed in Mahogany finish with gold accent. The Greenwich bedroom collection features exquisite hand-carved details on headboard and footboard. Bed made be configured with canopy, high post, or low post as shown.
This bed is constructed from solid hardwood with fine details on canopy and posts for a luxurious bedroom.
Collection Name: Greenwich
Finish: Mahogany
Dimensions:
Queen (73in W x 94in D x 92in H)
Cal King (available upon request)
Eastern King (85in W x 96in D x 92in H)
Canopy, high post or low post configuration
Solid walnut wood, hand-carved construction
Exquisite details with gold accent throughout
High or low post require optional set of 4 x finials (sold separately)
Greenwich Bedroom Collection video...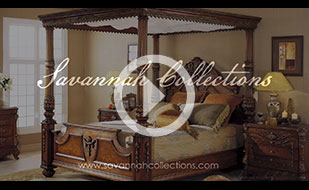 Request free swatches below.
Greenwich Bed shown in Mahogany finish
This product has 1 questions